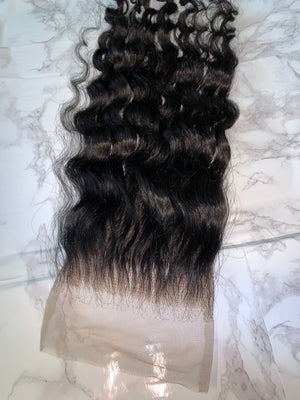 5x5 Raw Curly Lace Closure
Sale price Price $195.00 Regular price
Same high quality Raw Indian hair with swiss lace with more parting space. 
Why you would love this collection
100% Raw and Unprocessed hair.  Absolutely no synthetic fibers. Cut directly from a single donor and wefted. Completely Pure! No Matting or Tangling. 
Luster:  LOW LUSTER
Can hold a curl for many days.  Easy styling
Hair can be colored.
Affordable.
Simply a Masterpiece!
 

Please note: The lace closure photographed has been lightened with bleach to showcase the natural possibly. 

Please note: 14" are pre order only. Please allow 7-10 days additional when requested.

 

Please place color requests in the seller's note. We will do our best to accommodate you. 

 

Liquid error (templates/product line 6): Error in tag 'section' - 'product-recommendations' is not a valid section type