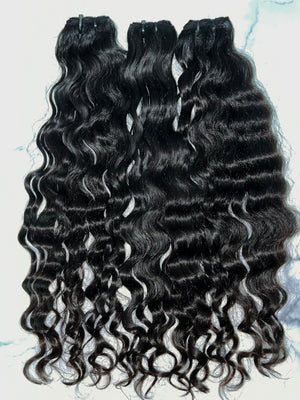 Raw Indian Deep Waves & Curls
Sale price Price $190.00 Regular price
Raw Waves and Curls is the best seller and no doubt the softest and thickest hair that we've ever touched. The newest texture is Deep Raw Waves & Curls. Enjoy a more textured look without the maintenance of curly hair. 
It thick and beautiful. Indian hair is as raw and pure as hair extensions get. 
Guaranteed to last up to 4 years. Exclusively at Her Mood Extensions & Wigs.
Why you will love this texture:
100% Raw and Chemical Free hair. No synthetic fiber, fillers, or animal hair. Cut directly from one donor and machine wefted. No matting, nor tangling. 
Flat and secure weft, this design allows for undetectable installs. Skip the wet sealant, this custom wefting keeps shedding to a minimum. 
It can be worn in natural state, flat-ironed, silk pressed, or curled. Easy to style. 
The minimum product needed to maintain.
Longevity, last up to 4 years, and more.
It can be dyed.
Reusable
 

How many bundles do I need?

10-14 inches 2 or more bundles required.

16-18 inches 2 or more bundles required.

20-24 inches 4 or more bundles required.

26 inches and longer 4 or more bundles required. 

 

 

Introducing the purest hair on the market... Raw Indian Collection. No two bundles are the same. These hairs are handpicked for the Moody girl who loves to be unique and luxurious. 

All cuticles run in the same direction, meaning frizz and shedding is very minimal. The luster is extremely rich. This is the most natural and thick hair ever. It blends perfectly with natural hair. That's right, you don't NEED a lace closure/or frontal for the perfect blend. When washed, the hair can revert back to its natural pattern. 

 

Please place color requests in the seller's note. We will do our best to accommodate you.  

Liquid error (templates/product line 6): Error in tag 'section' - 'product-recommendations' is not a valid section type